The educator laptop model is an excellent blend of functionality and performance. It is light enough to be mobile, yet with a decent sized screen and all of the ports your need to connect to TEC Packages and home printers, etc. The battery life is great, it has a fast solid-state harddrive, quick processor, and lots of system memory for all of those browser tabs we have open while we work.
SPECIFICATIONS
The Educator Laptops are Hewlett Packard ProBook 430 G3, they have a fast modern processor (i3 – 6th Gen) that is capable of running today's demanding applications.
These days, we run many browser tabs and applications at the same time so these laptops were equipped with plenty of memory (8GB RAM)..
Conserving power and speeding up file access, these laptops were equipped with 128GB Solid State Drives (SSD) so fast boot up and no more pauses while the hard drive "wakes up".
In addition these laptops are equipped with a long life 6 cell battery.
What happens if you lose your laptop power cord?  Write a WebHelpDesk ticket (click here) to order one. They cost ~$65 and can be paid for by the school through a GL transfer.
LAPTOP LAYOUT (WHERE DO I FIND…)
Top Row Buttons are used to turn on the laptop, activate airplane mode, turn on the WiFi mute or turn on the built-in speakers.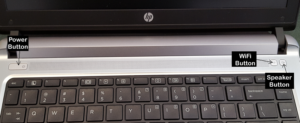 Top Row Keys allow quick access to functions like adjusting the screen brightness, speaker volume or activating external monitors or projectors.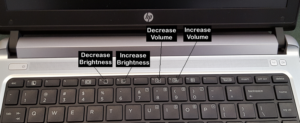 Right Side Connections allow you to connect to the wired network, external monitors or projectors, or connect USB devices.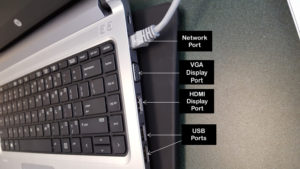 Left Side Connections allow you to connect power supply, USB devices, headphones, or read memory cards.