Google Classroom helps teachers create, assign, and collect student work electronically. With Google Classroom, teachers can seamlessly integrate Google Docs, Google Drive, and Gmail to create assignments, provide feedback, and communicate with their students individually and via whole class announcements.
Getting Started with Google Classroom
When teachers create assignments, folders are automatically created in Google Drive for each student. They can choose to share a single document (like project instructions), or automatically make a copy for each student (like a project template). They can see who has completed the work at a glance and assign grades. Students can easily see due dates on their assignments page, so they can stay organized and submit work on time.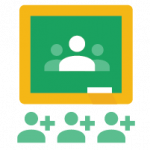 Use the resources below to become more familiar with using Google Classroom:
A Note About Delays in Assignments Reaching Students
Several teachers have reported that assignments that they post for students show up instantaneously for some students, but that others appear to have been missed by Classroom. It is highly likely that the assignments will show up for the affected students in time. As this blog post explains there is a background process that happens when you post an assignment and create a copy of it for each student. It is a bit like doing a mass mail-out. You have all the copies ready to go, but each recipient is at a different address. The postal service (or in this case Google) needs time to deliver all that mail. Please give the system a few hours to deliver the messages before creating a support request.