Google Cloud Print is a service that allows users on the GVSD Wi-Fi network to print from Chromebooks, iPads and BYODs (ex. a teacher's personal MacBook or a student's phone). Users must be logged onto Chrome (or a G Suite app) with their District Google account (a.k.a. an sd61learn.ca account), and their school must have at least one printer that has been set up for Cloud Printing.
Does my school have any cloud printers available?
School administrators are able to request cloud printing for their school by submitting a helpdesk ticket. They can specify which printers are enabled and whether students have access. Check this document to see if you have any Cloud Printers enabled at your location. (NOTE: You will need to be logged with a District G-Suite account to view the document.)
What are the limitations?
Guest users  (i.e. users without a district G Suite account) cannot print.
Cloud Print is an all or nothing service. There is no way to limit who can print or from where. The only choices are which printers are active and whether students can print as well as staff.
Cloud Print is incompatible with printers that have Department ID restrictions enabled, however they can work at schools with Managed Print Services.
Advanced printer functions cannot be accessed when using Cloud Printing.
Cloud Print works with Google products (Chrome Browser & G Suite apps) and a handful of third-party apps, but there are many iPad apps that users won't be able to print from. Apple devices use a separate technology called AirPrinting. This function is available to specific printers, and is not managed by IT for Learning.
Where do I find the printer?
Unfortunately Chrome's print dialog box displays printers inside of an individual user's profile. That means that your print dialog box can look very different from another person's, even if you are at the same location. IT for Learning staff cannot standardize this setting. So here's what to look for when adding and/or printing to a printer at your school:
Chromebooks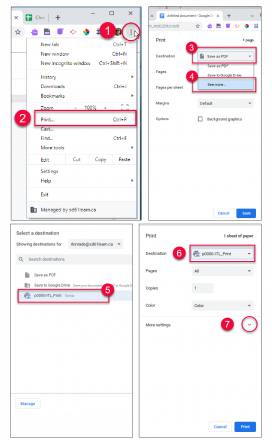 Click on the vertical ellipsis (stop light) in the upper right of the browser window, beside your user icon.
Select Print…
Click on Destination
Select the printer if you see it. If not click See more…
Find the printer in the list of available printers. Depending on how many printers are available to you the list may contain several options.
Your printer should now be selected. It may remain as the default printer next time you print, but you should always check this box just to make sure.
Click in the More Settings area to see what other options are available before you print.
(Click the image to the left to enlarge it.)