Sending A Video Conference Meeting Link
Zoom
Follow these instructions on using your Personal Meeting ID (PMI) to invite parents via Zoom.
Microsoft Teams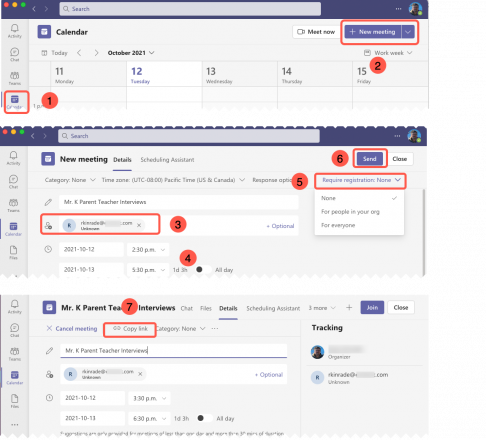 Teams does not have a PMI link to send to participants. You can however create a meeting that spans multiple days and use the same URL for all participants. In order to generate the meeting link though you must add an invitee to your meeting (you can send an invite to yourself using a different email address)
Open Teams and click the Calendar icon on the left
Click the New meeting button and title your meeting
Enter an external email address
 Set the time for the meeting
 Ensure that Require registration is set to None
 Click Send to commit the changes
 A Copy link button will appear in the header area, and on the calendar page. Click on this to copy the link
Paste the link in your email along with the rest of your message
Reviewing your Appointments
Option 1: Outlook Web
The easiest way to review your appointments is to use the Outlook Web App. The desktop version of Outlook will also work, but may look a bit different than the diagram published below.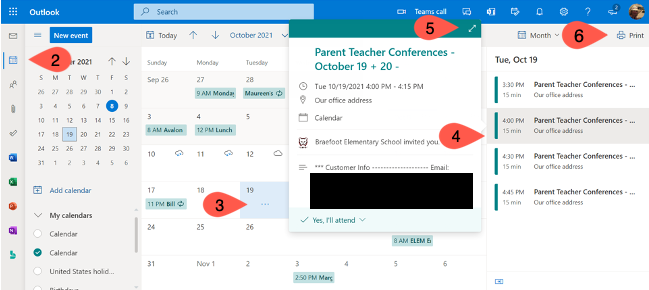 Open the Outlook Web app in your browser.
 Click the calendar icon on the left-hand side of the window
 Click on the date you want to review
Booked appointments will show up on right hand side; click one to see details
 Expand the window further to see more details about the appointment
Option 2: Use the Bookings app
First Login
The first time you use the service you need to:
Navigate to: https://outlook.office.com/bookings/onboarding

Click the "Get it now" button
Search for your school's name
Click on your school's name to go to the Bookings page
If you are setting up the Bookings page and do not have administrative access please contact helpdesk for support. Most teachers will only need viewer access
Checking the Calendar
After you have signed in click the calender icon in the sidetab orf go to the calendar page: https://outlook.office.com/bookings/calendar
choose the date(s) of the meeting(s) to review who has signed up for which slot
Unavailability
The easiest way to block off a time where you are unavailable is to go through your school's published Bookings site and book yourself in slots where you do not wish to be available. If you need to schedule interviews that are drastically different from what the school is offering due to other commitments please discuss your needs with the office.