In Windows 7 most of the computer's settings were managed through the Control Panel. The Control Panel still exists in Windows 10, but Settings (gear icon) organizes these same options into fewer categories and allows users to search for specific settings. This page will show users how to find some of the most commonly accessed settings and describe the process for locating the Control Panel, for those who are more comfortable using it.
Getting to Settings
The easiest way to get to Settings is to click on the Windows icon at the bottom left of your screen, then click the gear icon above the Windows icon (1). If the gear icon is not visible scroll down the list of programs until you see Settings, and then click to open (2).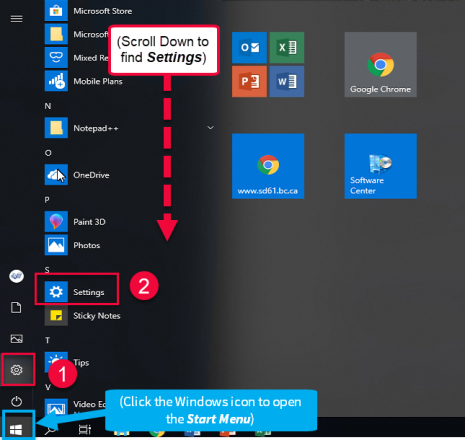 Finding and Changing Settings

The search field within the settings app is an easy way to find the setting you are looking for. Just type in part of what you are looking for and click the setting when it appears.
Here is an example, where Settings is used to change the default Email application to Outlook 2016:
Locating the Control Panel
If you are used to using the Control Panel, or don't see what you need in Settings click the Start Menu icon and start typing: "control panel"(1). At the top of the search menu that appears click Control Panel (2).